Eligible commercial patients may pay as little as $10 per 30-day supply of NEUPRO*
Follow these easy steps to SAVE on your prescription: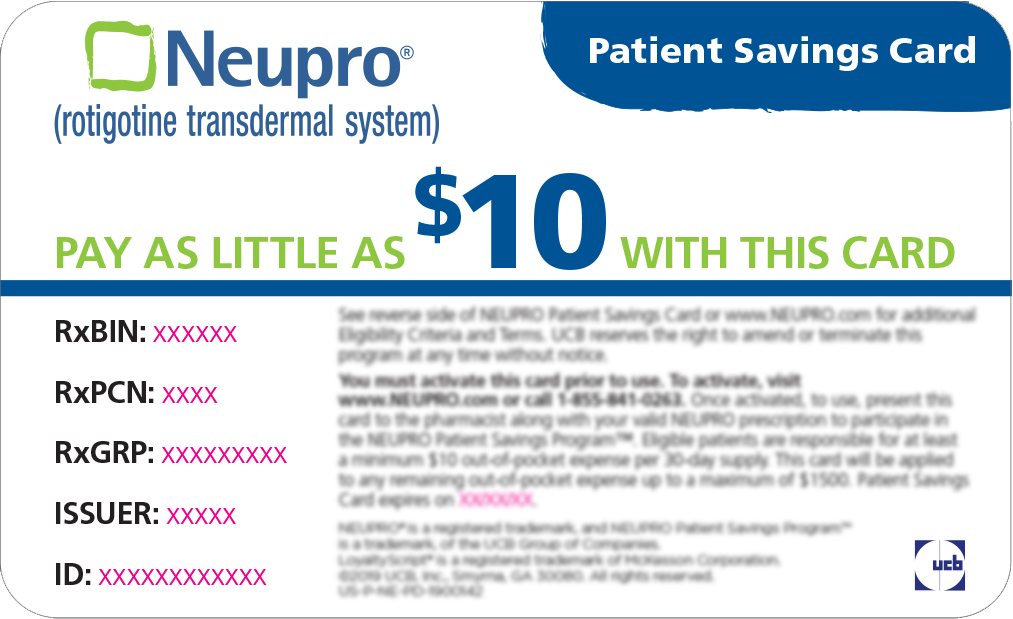 NEUPRO Patient Savings Card will expire at the end of the calendar year
Check your eligibility below
Register to activate your card
Present your card at the pharmacy to save on your prescription
*See Eligibility Criteria and Terms
Check to see if you're eligible for the
NEUPRO Patient Savings™ Card.
Sorry, you are not eligible at this time.
This program is valid only for residents of the United States or Puerto Rico
This program is not available for patients without commercial insurance
Patients are not eligible if their prescriptions are paid in part or in full by any state or federally funded programs, including but not limited to Medicare or Medicaid, Medigap, VA, DOD, or TRICARE, and where prohibited by law
You must be 18 years of age or older
For more information, call us at 1-844-599-CARE (2273), Monday-Thursday, 8 AM-8 PM ET and Friday, 8 AM-5 PM ET.
Congratulations!
You're eligible to start saving on your NEUPRO prescription. Please fill out the registration form below to activate your NEUPRO Patient Savings Card. It will only take a few minutes.
*See Eligibility Criteria
and Terms
ELIGIBILITY CRITERIA AND TERMS:
This savings card is not valid for use by patients who are covered by any federally funded or state-funded healthcare program (including, but not limited to, Medicare [Part D and Medigap] and those who are Medicare-eligible and enrolled in an employer-sponsored health plan for retirees, Medicaid, any state pharmaceutical assistance program, TRICARE, VA or DoD), or for cash-paying patients. Offer good only in the U.S., including Puerto Rico. This card is good for use only with a valid NEUPRO prescription consistent with the approved FDA labeling at the time the prescription is filled by the pharmacist and dispensed to the patient. The maximum annual benefit amount is $1500 per calendar year. Void where prohibited by law, taxed, or restricted. This offer cannot be combined with any other promotional offer. UCB, Inc. reserves the right to rescind, revoke, or amend this offer without notice at any time. No cash value. Not eligible for sale, purchase, trade, or counterfeit.
TO PATIENT:
When you use this card, you are certifying that you meet the complete Eligibility Criteria and Terms and that you have not submitted, and will not submit, a claim for reimbursement under any federal, state, or other governmental programs for this prescription. If you have any questions regarding the NEUPRO Patient Savings Program™ or wish to discontinue your participation, please call 1-855-841-0263 (8 a.m.-8 p.m. ET, Monday – Friday).
TO PHARMACIST:
Your acceptance of this card and your submission of claims for the NEUPRO Patient Savings Program are subject to the LoyaltyScript® program Terms and Conditions posted at www.mckesson.com/mprstnc. Submit transaction to RxC Acquisition Company d/b/a RxCrossroads by McKesson using BIN #610524. Input card information as secondary coverage and transmit using the COB segment of the NCPDP transaction. Applicable discounts will be displayed in the transaction response. The LoyaltyScript® card is not valid for use with any other prescription drug discount or cash cards for NEUPRO. Claims submitted utilizing the program are subject to audit or validation.
UCB reserves the right to change or cancel this program at any time without notice.
Patient Assistance Program
UCB, the maker of NEUPRO, remains committed to helping Parkinson's disease patients gain access to the medicines we manufacture. The NEUPRO Patient Assistance Program may be able to help if you do not have health insurance or if you otherwise cannot afford your NEUPRO medicine. The NEUPRO Patient Assistance Program may provide medication at no cost to eligible patients who are unable to pay for their NEUPRO prescription. To find out if you might be eligible for assistance, or to learn more about the NEUPRO Patient Assistance Program, contact ucbCARES®. Get started by reviewing the program instructions and filling out the application form. PROGRAM INSTRUCTIONS AND APPLICATION FORM
You may also be interested in...