What is NEUPRO?
Your once-daily partner to help control Parkinson's disease
NEUPRO® (rotigotine transdermal system) is the first and only Parkinson's "patch" you wear on your skin. The NEUPRO Patch delivers the dopamine agonist rotigotine through the skin, directly into the bloodstream. It releases the medicine 24 hours a day, providing stable, continuous delivery of medication.
NEUPRO is a small, thin, flesh-colored patch that comes in 4 dosing strengths for Parkinson's disease (PD): 2 mg, 4 mg, 6 mg, and 8 mg.
It is believed that dopamine agonists work by stimulating dopamine receptors in the brain; however, the exact way NEUPRO treats PD is unknown.
If you're considering taking medicine for the first time to help control your Parkinson's symptoms, or if you're currently taking medicine and still experiencing symptoms, ask your doctor if NEUPRO could be an option for you. Just as you're determined to face the challenges before you, now you have a once-daily partner, NEUPRO, to help you manage your symptoms.
Do not use NEUPRO if you are allergic to rotigotine or any of the other ingredients in the patch.
For detailed safety information on the NEUPRO Patch, see safety and side effects.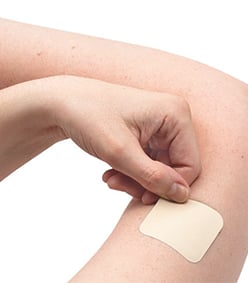 Why NEUPRO?
NEUPRO is proven to help control the signs and symptoms of Parkinson's disease.
NEUPRO may be the first medication your doctor has prescribed for you. Or your doctor may be making a change because you've reached a point where your symptom control isn't what it used to be. Or you may feel your medication isn't helping enough. This is when an honest conversation with your doctor becomes so important to decide if the NEUPRO Patch is right for you.
With NEUPRO, It's ON in so many ways, because:
In clinical trials,

early-stage

PD patients taking NEUPRO saw improvement in their Parkinson's symptoms, measured by a combination of motor function and activities of daily living.

Motor function can include tremors, stiffness, slowness, and problems with balance.
Activities of daily living include eating, dressing, and walking.

In clinical trials, patients with advanced PD who added NEUPRO to their existing medication had almost 2 hours less "off" time—and nearly 2.5 hours more "on" time—than patients taking a placebo.

More than twice as many PD patients taking NEUPRO woke up "on" before taking morning medication, compared to those taking placebo.

The most common side effects in people taking NEUPRO for Parkinson's disease are nausea, vomiting, sleepiness, application site reactions, dizziness, loss of appetite, difficulty falling asleep and staying asleep, increased sweating, vision problems, leg swelling, and uncontrolled, sudden movements of the arms or legs.
Medicine is delivered consistently 24 hours a day.
Effective alone, or when taken with LEVODOPA
The NEUPRO Patch is proven to provide effective symptom relief for people with early- or advanced-stage Parkinson's disease. NEUPRO can be prescribed on its own, or it can be added to levodopa therapy, if your doctor thinks it is appropriate.
NEUPRO may cause uncontrolled, sudden movements or make such movements you already have worse or more frequent if you have Parkinson's disease, which may mean that your anti-Parkinson's medicine needs to be changed.
Why a patch may be right for you
NEUPRO provides stable, continuous delivery, 24 hours a day, so you get a consistent level of medication throughout the day.
The NEUPRO Patch offers

once-daily

dosing. Simply choose the time of day that works best for you and apply the patch at the same time each day.
The medication in the NEUPRO Patch does not go through your digestive system.

Food won't interfere with how it works
No pills to swallow
No need to schedule NEUPRO around meals
The medication in NEUPRO will not be affected by the digestive tract
NEUPRO can cause nausea, vomiting, indigestion, or upset stomach, which may occur more frequently when you first start using the patch.
Skin reactions may occur at the site where you apply NEUPRO. Tell your doctor if you get a rash, redness, swelling, or itching that will not go away.
For detailed safety information on the NEUPRO Patch, see NEUPRO safety and side effects.
You may also be interested in...